DISvue® is a brand label which combines several trusted manufacturers of displays and display solutions. It is the accumulation of a palette of factories with each their strong points and unique products and services. The factories and suppliers have a proven track record of continuity and quality assurance procedures and programs which have been verified by visiting the locations and by international audit companies like DNV (Det Norske Veritas), TüV (Technischer Überwachungsverein, English: Technical Inspection Association) and SGS (Société Générale de Surveillance).
In principle all these suppliers have their own dedicated technical support department and they work closely together with component and raw material suppliers to develop their products further, get involved in customized products or to assist in case of technical questions.
Product range:
This unique DISvue® brand has simultaneous focus on Opto-Electronic components (LED, OLED, LCD, TFT and monitors) and on touchscreens, embedded based solutions (ARM or Intel), monitors and digital signage for in visitor information or customer advertising systems.

Philosophy and validation:
The DISvue® philosophy towards distribution came with the redevelopment of a "product oriented concept" to a "product development principle". The main difference is that it focuses on the starting point from a customer's perspective, not from a potential supplier's product range.
The DISvue® brand selects and manages a pool of solid display suppliers that have committed to support the best possible solution by means of an unrivalled portfolio of display products.
Our selection starts with suppliers that propose a product very close to the original wishes from customers. DISvue® has established long and short term cooperations with quite some of display suppliers from Taiwan and (South-East) China. Additionally we provide high end special solutions from display suppliers in e.g. Korea and USA. Each of these suppliers have their own specific skills, technologies, assembly options, minimum sales quantity and customization possibilities.
We move both in low cost / high volume and high end / low volume goods and basically anything in between. The specific needs of the project determine our approach and initial selection of the supplier(s).
When the customer has made a general analysis about the wants and needs, we can get to do what we do best. Our office in Taiwan enables us to communicate to local Taiwanese and Chinese suppliers in the same language and time zone.
The Dutch office can help out with the communication between customer's demands and how suppliers should handle them.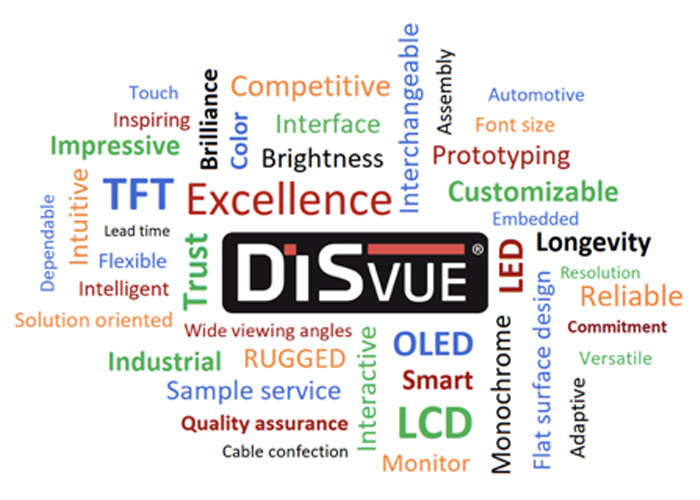 Validation:
By visiting Asia several times per year while additionally attend exhibitions in Asia, Europe and North America we are able to source new products, (re)visit potential suppliers, maintain relationships and personally support projects in these areas.
In case you wonder how we do this, it is a unique combination of simplicity, sophistication and a strong sense of commitment. The DiBis people build relationships by regular trips to Asia and USA as well as the presence at a number of well-established exhibitions in Taipei, Hong Kong, Shenzhen and California.
It is from there that we increase the intensities of contacts up to a level where we feel confident enough a supplier has a certain added value to the brand label DISvue®. From there on our customers only need to keep in mind that all is handled by one trusted supplier: DISvue! Saving you time and money in many ways.
Showcase:
For impressions concerning our design-ins, please check our Showcase with several design-in projects and unique solutions. You will get inspired!