As mentioned on the LCD page, there is a difference between "passive matrix" types (often referred to as LCD) and "active matrix" which is commonly named TFT. Per pixel a transistor is assigned for control. That is the advantage and also some disadvantage of TFT. The driving itself is more complex and requires more resources like processor capacity and memory.
Be that as it may, there are now many different lower cost solutions to drive a TFT directly or indirectly. Ultimate small "computers" like Raspberry Pi are filling the gap, but many of our suppliers can also provide an easy to integrate product that need only simplified signals and power to work as a sort of stand-alone display system.
TFT is still a rising star when it comes to market leader technology and volume. The image quality is still improving and the price keeps decreasing. Two major reasons why more and more engineers select TFT as their display technology of choice.
Since TFT is basically an LCD technology (with more color capacity, faster response time and far wider viewing angles), it does in most cases need an LED backlight. There are some products available with transflective technology but this is usually for smaller sizes and there is limited supply.
Why choose TFT? Well, here are some key features:
Wide palette of available products and sizes, e.g. bar-shaped and round;
Available in standard, semi-custom and full custom design;
Fast response time, high contrast, wide color spectrum;
Wide viewing angles for MVA and IPS technology;
Wide temperature range;
Off-the-shelf touch solutions, mostly PCAP technology;
Available with integrated controller/driver IC;
Available with PCB design for easy install / easy integration
There are more options and functionalities which is different per project requirements. For more information please feel free to send us your wish list.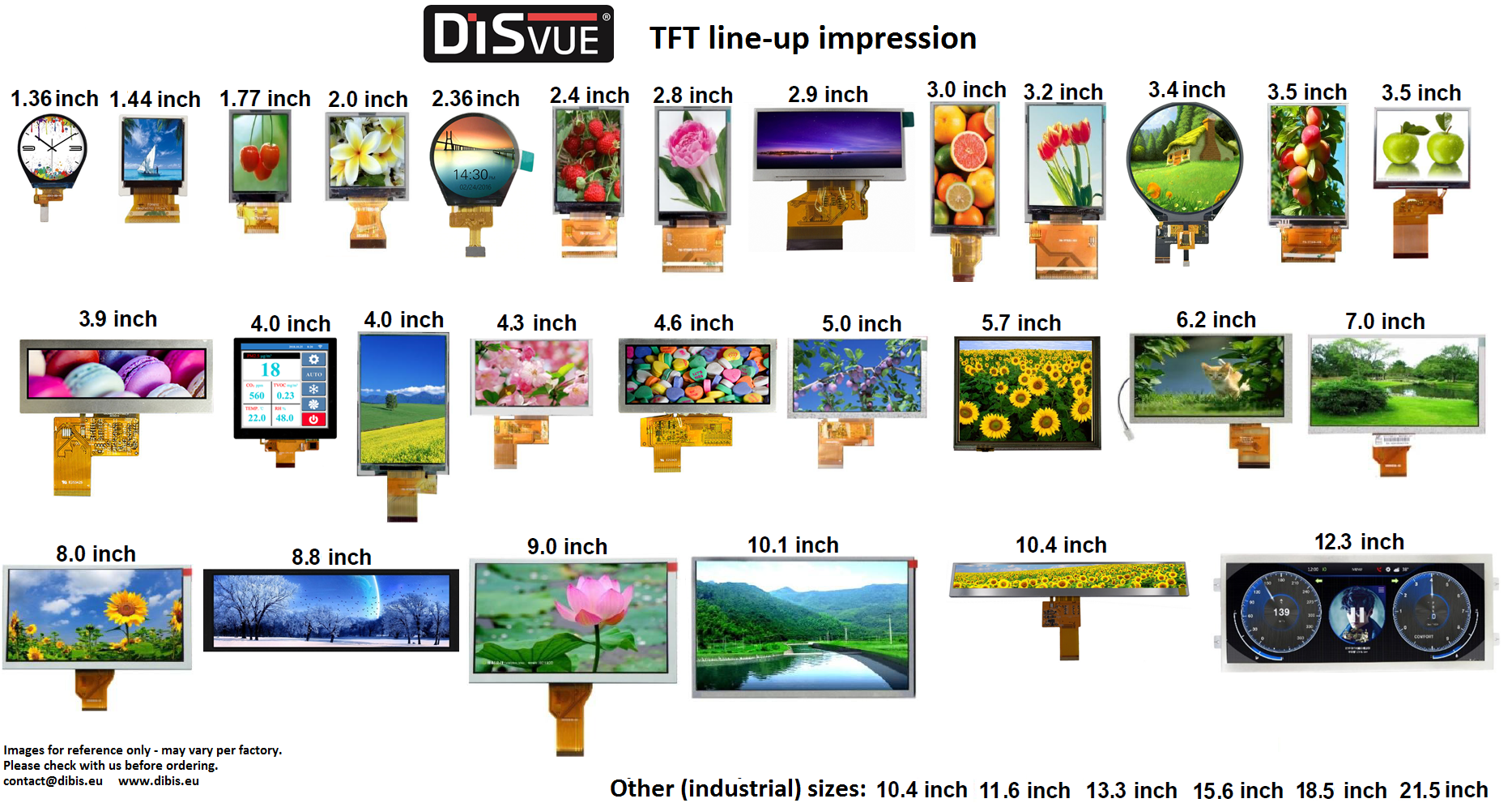 | | | | | | | | | | |
| --- | --- | --- | --- | --- | --- | --- | --- | --- | --- |
| Part Number | Size (inch) | Resolution (dots) | Brightness (cd/m2) | Module Size (mm) | Active Area (mm) | IC | Tech | Interface | Touch Option |
| DVT-018T-JT-2T-C01 | 1.77 | 128 x 160 | 280 | 34.00 x 45.83 x 2.60 | 28.032 x 35.04 | 9163C | TN | MCU | R4W |
| DVT-020T-JT-3T-A01 | 2.00 | 176 x 220 | 220 | 37.68 x 51.30 x 2.23 | 31.680 x 39.60 | ILI9225G | TN | MCU | R4W |
| DVT-023A-JT-TFT-V04 | 2.30 | 320 x 240 | 280 | 50.90 x 45.80 x 2.30 | 46.750 x 35.06 | ILI9342C | TN | MCU | R4W |
| DVT-D035-JY-VX8 | 3.50 | 480 x 640 | 500 | / | / | / | / | / | / |
| DVT-M042-JY-OX3 | 4.20 | 96 x 432 | 350 | / | / | / | / | / | / |
| DVT-043T-JT-9T-F01 | 4.30 | 480 x 272 | 400 | 105.50 x 67.20 x 2.90 | 95.040 x 53.86 | ILI6480 | TN | RGB | R4W / PCAP |
| DVT-D050-JY-VL1 | 5.00 | 640 x 480 | 450 | / | / | / | / | / | / |
| DVT-D057-JY-VU6 | 5.70 | 320 x 240 | 400 | / | / | / | / | / | / |
| DVT-M069-JY-WX1 | 6.95 | 800 x 480 | 500 | / | / | / | / | / | / |
| | | | | | | | | | |
| --- | --- | --- | --- | --- | --- | --- | --- | --- | --- |
| Part Number | Size (inch) | Resolution (dots) | Brightness (cd/m2) | Module Size (mm) | Active Area (mm) | IC | Tech | Interface | Touch Option |
| DVT-M070-JY-WX1 | 7 | 800 x 480 | 400 | / | / | / | / | / | / |
| DVT-D080-JY-SL7 | 8 | 800 x 600 | 1400 | / | / | / | / | / | / |
| DVT-M090-JY-WY2 | 9 | 800 x 480 | 500 | / | / | / | / | / | / |
| DVT-101A-JT-TR-V04 | 10.1 | 1024 x 600 | 300 | 235.00 x 143.00 x 4.30 | 222.72 x 125.28 | HX8282 + HX8696 | TN | LVDS | R4W / PCAP |
| DVT-M102-JY-ZY3 | 10.2 | 1024 x 600 | 350 | / | / | / | / | / | / |
| DVT-D104-JY-SLF | 10.4 | 800 x 600 | 400 | / | / | / | / | / | / |
| DVT-D104-JY-SLK | 10.4 | 800 x 600 | 1200 | / | / | / | / | / | / |
| DVT-D121-JY-XL8 | 12.1 | 1024 x 768 | 1500 | / | / | / | / | / | / |
| DVT-D121-JY-XL9 | 12.1 | 1024 x 768 | 550 | / | / | / | / | / | / |